VSS Mani, a first generation entrepreneur toyed with the idea of a telephonic directory service way back in the early 90's when the telephone density in India was fairly low. Probably mobile phones were also unheard of at that time. His venture 'Just Dial' today is a No.1 local search engine in India that provides search services over telephone.
Just Dial has one single number 69999999 across 240 cities, receives over 250,000 calls a day. Today the company boasts of a turnover of over Rs.100 crore, which is a giant leap for a start up that was set up with a capital of just Rs.50,000..
We will look at how VSS Mani ("Mani") came up with this idea, and how Just Dial was born, its wonderful journey and the key learning or takeaways.
Background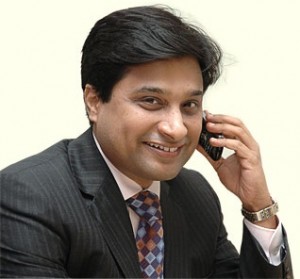 VSS Mani hailed from a traditional middle class family (i.e. a Tamil Brahmin family), where more importance is given to academics or professional education and career.
Mani was pursuing his bachelor's degree in addition to a Chartered Accountancy (CA) course and article ship.
A few years down the line he had to drop his CA exams due to family circumstances. He had to contribute to the family's income, which forced him to take up a sales job with United Database India (UDI) in 1987 and worked there for 2 years, which provided him the ground knowledge and experience about the business. United Database was in to yellow pages and telephone directory related services.
The First Venture
While working at United Database Mani had an idea of starting a directory service over phone.
In August 1989 Mani joined hands with two partners to set up AskMe, a dial in service with an investment of Rs.25 lakhs. The concept was nascent and risky, because very few people had telephone access in those days (remember that mobile phones didn't exist and call rates were unaffordable).
The venture grew fast and the company expanded to five cities, but due to the challenging economic conditions the venture had to be closed. Further, the lack of coordination and understanding among three partners forced them to part ways in 1992.
AskMe was no more but Mani still had conviction about his idea and was finding alternate ways to start another venture.
The Second Venture
Post 1992 Mani had been working on various concepts and ideas achieve his dream of setting up his own enterprise. He toyed with a concept of a free Wedding Planner (magazine), which will reach several matrimonial advertisers in Delhi.
The planner would carry several advertisements relating to services associated with a wedding which can include bandwallahs, caterers, fashion designers, garment retailers, etc. This time, again Mani had an issue with his co-promoters and decided to venture out on his own.
The twice bitten aspiring entrepreneur was still confident in his idea, so he took the wedding planner concept to another national newspaper in Delhi. The business took off reasonably well and Mani managed to save Rs.80,000 idea of starting up a dial in service.
This time Mani decided to handover the business to his brothers in Delhi and moved to Mumbai with his savings. He deposited Rs.30,000 in a fixed deposit as a security back up and had Rs.50,000 as a seed capital for his dream venture.
Mani was more passionate about his own idea, due to which he gave up other businesses and focused on his core concept and started working on it.
The Dream Number
Mani made a significant move by shifting to Mumbai with a small seed capital of Rs.50,000 for his venture. Way back in the 90's Mani used to dream of numbers and millions of people using his services.
But this idea had to be converted in to a business, which was a challenge in those days. A special number 888-8888 caught Mani's attention and changed the course of his life and a new business was born. I will quote this incident in his own words, below:-
"In 1996, I came to know of a number – 888 8888. When I checked, the number was from Kandivili Exchange in Mumbai. The exchange was coming out with its 888 series. I approached the general manager and told him about my idea, and also what I intended to do with the number.
He liked the presentation and thought that it was a very useful thing and gave me the number. It was a difficult thing to do in those days. But it happened. I don't know what the reason was. Sometimes when you dream and you are really desperate to get something, you get it."
(Source: Dare.co.in)
Starting up Just Dial
In those days the phone line was costing Rs.15,000 and it would be installed after a waiting period of one year. This amount was also huge, given the small seed capital of Rs.50,000 which Mani had.
Despite all odds, Just Dial kick-started with a simple number 888-8888, some borrowed furniture, leased computers in a garage type of set up. Mani emphasized that passion is the key that will enable a person to find ways and means to achieve his goal.
Even lack of capital or resources can be overcome if one has passion, because he or she will gradually find ways to work around these constraints and emerge successful.
Personal, Business Challenges & Growth Opportunities
With just Rs.50,000 Mani had to find a suitable accommodation for his family of four as well as start up his venture. This would actually sound impossible that too in a city like Mumbai where living costs particularly rentals are too expensive.
At this time, one of his cousins helped him with Rs.1 lakh, which was one big act of faith. Apart from that his seed capital of Rs.50,000 was the only backing Mani had those days.
In early days, the environment was tough because the number of telephone connections in Mumbai was not as massive as today. Personal telephone connections were probably a million or less in Mumbai.
Finally in 1996 the telecom liberalization policy opened up more telephone connections (landlines) across the country leading to more opportunities.
Every businessman should be open to facing both opportunities as well as challenges. Once Mani overcame his initial challenges, the mobile revolution came in, after which Just Dial grew by leaps and bounds.
After the tremendous growth in mobile connections in the past decade the telephone density has improved dramatically. This also means a market size of several hundred million phone users across the country.
Focus on Core Competence and Calibrated Growth Strategy
Just Dial has been a focused player and leader in local search. If someone want to find a doctor, car service center, restaurant or an ATM in your city or locality you can dial in to Just Dial to get the required information.
Mani had learnt his lessons in AskMe where growing too fast had lead to break downs and loss of focus. Similarly lessons from his previous ventures helped him to overcome the tech meltdown in year 2000.
A touch of conservatism helped the company face the economic meltdown and survive to see more success in the coming days. The turnover of the company crossed Rs.4 crore mark and Just Dial also launched a print version in 2004, followed by internet initiatives.
Sponsored Ads: In 2007 a text messaging service on the lines of Google's sponsored ads was launched. There were many takers for this service due to its ability to reach target audiences in a unique way.
Now Just Dial, a self-funded company till then started receiving funds from venture capital. Firms such as SAIF Partners invested Rs.50 crore in October 2006. "They tried our service, loved the idea and walked into our office to invest," says Mani with pride. Later in March 2007 Tiger Global, a US hedge fund, invested Rs 77 crore in Just Dial.
"I will be using it for setting up business in the US." With a presence in 42 cities, Mani thinks it is time to go global. "No one can provide our kind of service," he says confidently. (Courtesy: Dare.co.in).
Future Plans
Just Dial's future plans include
Extension of Web based local search services, which has already started
Expansion to new platforms such as WAP, smart phone, etc. Probably some of these is already in place at the time of writing.
The company is expanding the business to US market. The 1-800-JUST-DIAL service is already in place. Soon the company will expand to other English speaking countries and have an international presence as well.
Just Dial is planning an IPO to raise Rs. 360 crore. Citigroup Global Markets India Private Limited and Morgan Stanley India Company Private Limited are the book running lead managers to the issue.
Disclaimer: This is not a recommendation or advice to buy or sell or invest in the IPO. The article is only for informative purposes and should not be used for taking investment decisions.
Mani's vision is to take Just Dial to new heights by leaving a global footprint, and becoming a world leader in local search services.
Lessons to learn from VSS Mani
Lesson One:
Be passionate about your idea and have strong conviction backed by facts and research to support the same.
Lesson Two:
Although capital is a basic need for any start up, it is not necessary to have a huge capital to start a business. You can overcome this with good ideas, creative alternatives and technology.
Lesson Three:
Continuous improvement should be a part of the business DNA. Small improvements in the process, technology, methodology, product, administration, etc can go a long way in making your venture world class.
Lesson Four:
In some cases the external environment is not ready or conducive for your venture (like how Mani faced the issue in early 90's). However, this can change overtime. In 1996 the telecom policy was liberalized and this opened more business opportunities for Just Dial. Later over the years, the mobile revolution was a big bang change that made Just Dial truly successful.
Lesson Five:
Mani says "Many people just think and don't take action". So taking action and implementing your ideas is very important.
Lesson Six:
Flexibility to change and adapt according to the situation or environment is an essential trait. In Mani's own words "If one particular strategy does not work, I switch over".
Lesson Seven:
Having a strong core team and building confidence in the team is important. Just Dial started with four people, grew to about 25 and today is employing approximately 2850 people. Out of the core team of 25 associates about 70% still work with Just Dial.